Click here to read the latest issue of Kinsman Free Public Library's Newsletter, "Check It Out"! 
---
Job Opening: Part Time Library Aide
Job Posting: Part Time Library Aide
The Kinsman Free Public Library has an immediate opening for a Part Time Library Aide. The starting rate of pay for this position is $8.15 per hour. Eligible candidates must be 18 years or older and possess a High School Diploma or GED equivalence. Applicants must be available to work flexible schedules that includes days, evenings and weekends. Qualified candidates should be enthusiastic team players who are able to meet deadlines, can multi-task, have basic computer skills, can handle extended periods of standing and walking, and can lift up to 40 pounds. Basic job duties include but are not limited to performing all circulation desk duties, transacting and counting back money, cleaning and shelving library materials, providing excellent customer service, providing readers' advisory, shelf reading, and assisting with library programming for children, teens and adults. Library experience is preferred. Interested candidates should stop into the library to fill out an application and send resume and cover letter to Library Director, Kimberly Garrett, at This email address is being protected from spambots. You need JavaScript enabled to view it.. Application deadline is March 10, 2017.
---
ARE YOU INTERESTED IN SERVING ON THE LIBRARY BOARD OF TRUSTEES?
The Kinsman Free Public Library has an immediate vacancy for a member to serve on the Library Board of Trustees. The Board is seeking to identify a pool of dedicated individuals who have a passion for public libraries and the ability to effectively advocate for them. This is a volunteer position. Trustees are not compensated for their service.
Becoming a Trustee requires a sincere commitment to the library, the ability to represent it well in the community, leadership skills, a talent for working well in a team environment, the ability to bring community needs to the attention of the library and library needs to the attention of the community, and dedication to spending the necessary time to do the job well. Trustees must be able to attend and actively participate in all monthly meetings, which are held on the second Tuesday of each month at 5:00 p.m. (no meetings during the summer months of June, July or August), as well as any called special meetings. Trustees are appointed for a term of seven years, with eligibility to serve a second term.
Do you have the interest, energy, and expertise necessary to be a trustee? If you would like to be considered for this vacancy, please send a resume and cover letter expressing why you should be the next Trustee addressed to the Kinsman Free Public Library Board of Trustees, care of Kimberly Garrett, Library Director, to This email address is being protected from spambots. You need JavaScript enabled to view it., or deliver in person to the Library. Application deadline is March 10, 2017.
---
NEW!  AWE LEARNING

EARLY LITERACY STATION


Bringing literacy and libraries together!
Designed specifically for children ages 2- 8 years
featuring over 4,000 localized learning activities.
Fun, interactive, & engaging content spans seven curricular areas:


Math    Science & Nature     Social Studies & Geography
Reading     Art & Music     Writing & Computer Skills      Reference


Come in, stay & play!
---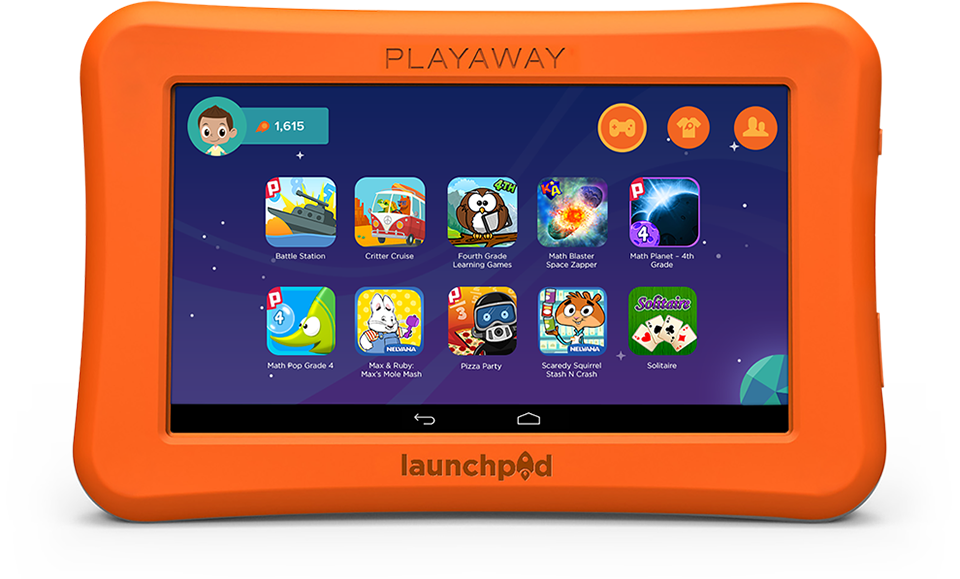 NEW!  Playaway Launchpad Tablets for Children
Introducing an exciting NEW technology to hit the Kinsman Free Public Library's Children's Department! It's the Playaway Launchpad Tablets! These tablets are:
*Pre-loaded with high-quality, ad-free learning apps and immediately ready to play with
*Curated with age specific and appropriate games and content
*Durable enough to move from the hands of one little explorer to the next
*100% secure — No risk of exposure to unintended content

Choose from 5 different tablets designed for children ages pre-K and up! The tablets are available to borrow and use in the library only (may not be checked out or taken out of the children's department) with a library card.
Stop in and ask about the tablets today! 
Come in, stay & play!
---
Have you tried hoopla yet?
Digitally download ebooks, movies, and full albums all for free with no late fees!
Get the Hoopla app at your app store.
Search for items in our card catalog or through the Hoopla app.
Download to your device.  You will need your library card number and pin.
Enjoy up to ten items per month for free.
Thousands of items for kids, teens, families, adults.
Click the button on the left side task bar.
Try it!  Questions about HOOPLA?  Ask a staff member.
---
WINTER READING PROGRAM 2017
 February 1 - March 17, 2017
Registration begins January 23rd
Read or listen to audio or e-books and
you could win a great prize!
Tell us Why You Love Your Library!
Make a card at the Heart Station or bring us one
and you will be entered to win an Amazon Gift Card!
One entry per person, per card, per day