KINDNESS STACKS UP
2019 WINTER READING PROGRAM
FEBRUARY 1st - MARCH 1st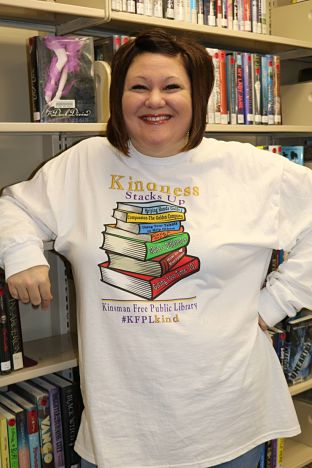 KFPL's 2019 Winter Reading Program will run during the entire month of February. The theme this year is "Kindness Stacks Up."
You may stop into the Library beginning February 1st to register. Registrants will be asked to complete a BINGO card filled with reading activities and random acts of kindness, and then return the card to the Library to earn prizes!
We will end the program this year with an After-Hours Family Lock-In on Friday, March 1st from 5:00 - 8:00 p.m. filled with snacks, games and lots of family fun!
5 WAYS TO SPREAD KINDNESS AT KFPL
The Library invites you to participate in 5 Ways to Spread Kindness during the month of February:
1. Warm Up America! Donation Drive--Knit or or crochet 7"x 9" squares or full afghans for Warm Up America.
2. Create Handmade Cards--Drop-in for a special Create & Take on February 8th to make handmade cards to be sent to a local nursing home.
3. Positive Post Its--Stop in and write a positive message on a post it note, show it to a librarian, and it will be placed in a book on the shelves for the next reader to find.
4. Helping Hands Drive--Help those in need by donating new or gently used hats, gloves, or scarves.
5. Canine Companions Fleece Drive--Donate 1 yard pieces of fleece in animal print (for cats and dogs) which will be donated to Canine Companions for Independence.