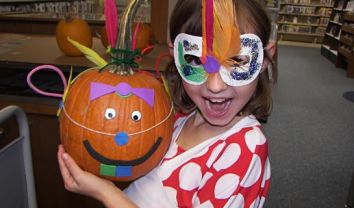 Families, teens, and adults are invited to enter the Library's Pumpkin Decorating Contest. Paint it, Dress it, but DON'T CARVE IT!
Pumpkins should be crafted at home using materials such as paint, beads, fabric, feathers, clothing, etc. Carved pumpkins will NOT be accepted as they are prone to rot & bugs.
Drop-Off: October 19 - 22
Judging: October 23
Winners Notified: October 24
Displayed Until: October 31
Pick-Up: November 1 - 3
Entries will be divided into 3 judging groups: Family, Teen, & Adult (2 winners will be chosen from each group).