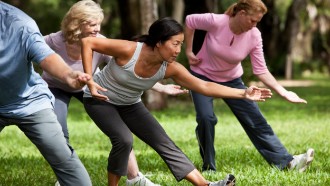 Tai Chi classes are offered on Monday evenings at 5:00 p.m. and on Thursday evenings at 5:30 p.m. for adults and tweens/teens ages 10 and up.

Originally developed in China as a form of self-defense, Tai-Chi is a graceful form of exercise that has existed for some 2,000 years. Practiced regularly, Tai-Chi can help you reduce stress, and improve balance, flexibility, strength, coordination, and more. Class maybe done sitting or standing. You must be registered to attend. Class size is limited. Please call for more details.

Fee: $5.00 per class
or $25.00 per month.

Payment is due at beginning of class/month.
Payment is made directly to instructor. Cash only, correct change appreciated!
Age: 10 yrs +
Signed liability waiver required to participate. Wear loose fitting clothing and flexible soled shoes.
Class may be done sitting or standing.