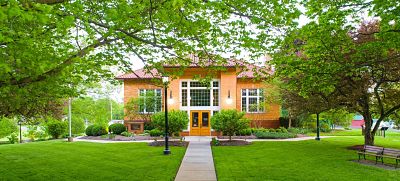 Kinsman Free Public Library
6420 Church Street
Kinsman, OH 44428

TEMPORARY NEW HOURS (DURING PHASE 5 OF COVID-19 PHASED REOPENING PLAN)
The Library will reopen to the public on Thursday, June 4, 2020 at 10:00 a.m. with limited hours and services: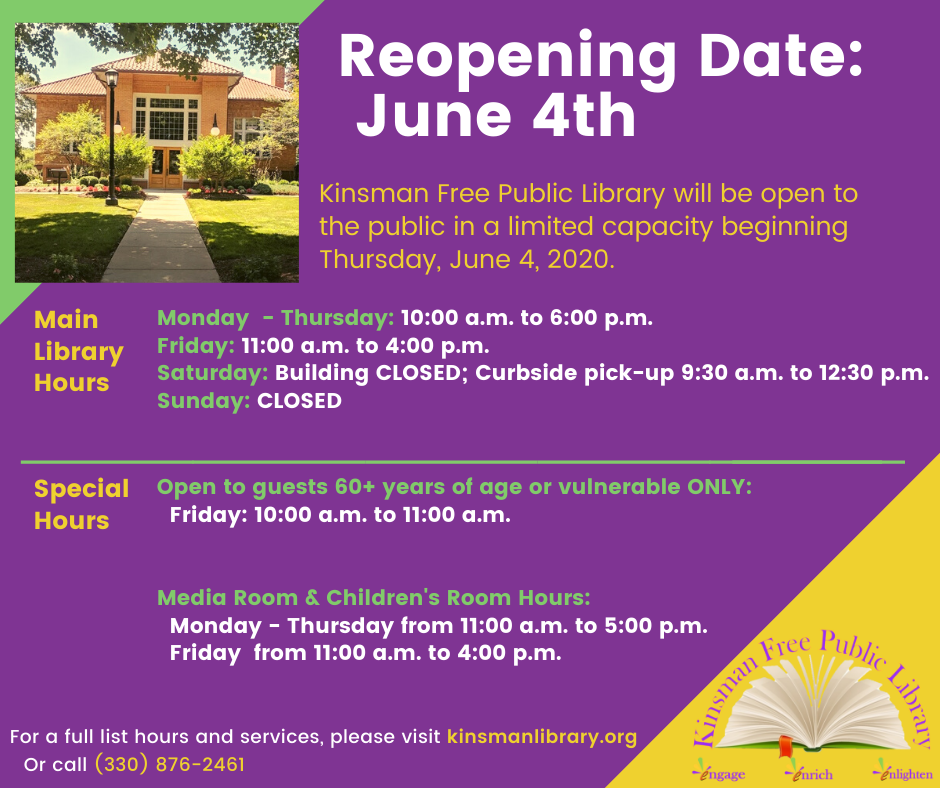 ---
WINTER WEATHER CLOSINGS

The library will operate on a two-hour delay, opening at 11:00 a.m., when the Joseph Badger School System is closed.

Should weather and road conditions remain inclement and dangerous, the library may remain closed all day. All-day closings are at the discretion of the Library Board of Trustees.

The library will post all-day closings online and will notify local tv media when time allows. Please check the library's website & facebook page, or call the library before venturing out.

Should the Library be closed all day due to weather, all programs, events, and activities that were scheduled for that day will be cancelled.



EMERGENCY CLOSINGS

The library may be closed unexpectedly for a number of reasons due to safety, mechanical, or other reasons.

These closings will be posted on our website and social media sites when possible.

2020 HOLIDAY & SCHEDULED CLOSINGS
The library will be closed on the following days:

Wednesday, January 1
Monday, January 20
Monday, May 25
Saturday, July 4
Monday, September 7
Monday, October 12
Thursday, November 26
Friday, November 27
Saturday November 28
Thursday, December 24
Friday, December 25
Saturday, December 26
Thursday, December 31


We appreciate when you are careful not to over stuff the curbside returns when the Library is closed. Please remember that you are responsible for the items until they are discharged inside the library.